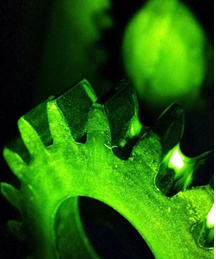 NDT (Non-Destructive Testing) is a term that employs methods of examining materials in order to detect flaws, or measure properties, without affecting the serviceability of the material.
BTA offers a complete NDT inspection program by certified technicians depending on individual client needs and applicable legislation from WorkSafeBC and the Health, Safety, and Reclamation Code for Mines in British Columbia.
Once inspected BTA can also provide engineering certification where legislated.
Some of the services on offer are:
Ultrasonic Testing (UT)
UT is a Non-Destructive test method in which a beam of high frequency sound waves is used to detect surface and subsurface flaws in various materials.
UT can be used to determine material thickness.
UT is one of the most widely used Non-Destructive testing methods.
Magnetic Particle Inspection (MPI)
MPI is a Non-Destructive test method utilizing magnetic leakage fields and suitable indicating materials to disclose surface and shallow subsurface discontinuities on ferromagnetic materials.
MPI is a rapid and economical method of testing.
Typical Units Inspected are:
1. Lifting Devices including overhead cranes and monorails
2. Cranes, Genies, and Manlifts
3. Forklifts and loaders
4. Chippers and Fans
5. Tube Wall Thickness
6. Air Receiver Wall Thickness
7. Wear Items
All results are posted on our unique online ProAc Maintenance Management program for historical trending and up to date interactive communication between BTA and the client. Results can also be exported to a variety of CMMS systems like SAP, Maximo, Dingo Trakka, and more.